Nina showcases how design team member Angela Ishibashi used Elizabeth Craft's Mandala die in many ways.
For today's Facebook Friday project, we will be featuring Elizabeth Craft's Mandala Die. It is a really beautiful and intricate die that is so versatile. Our design team member, Angela Ishibashi, showed many different variations on how you can use this intricate Mandala die.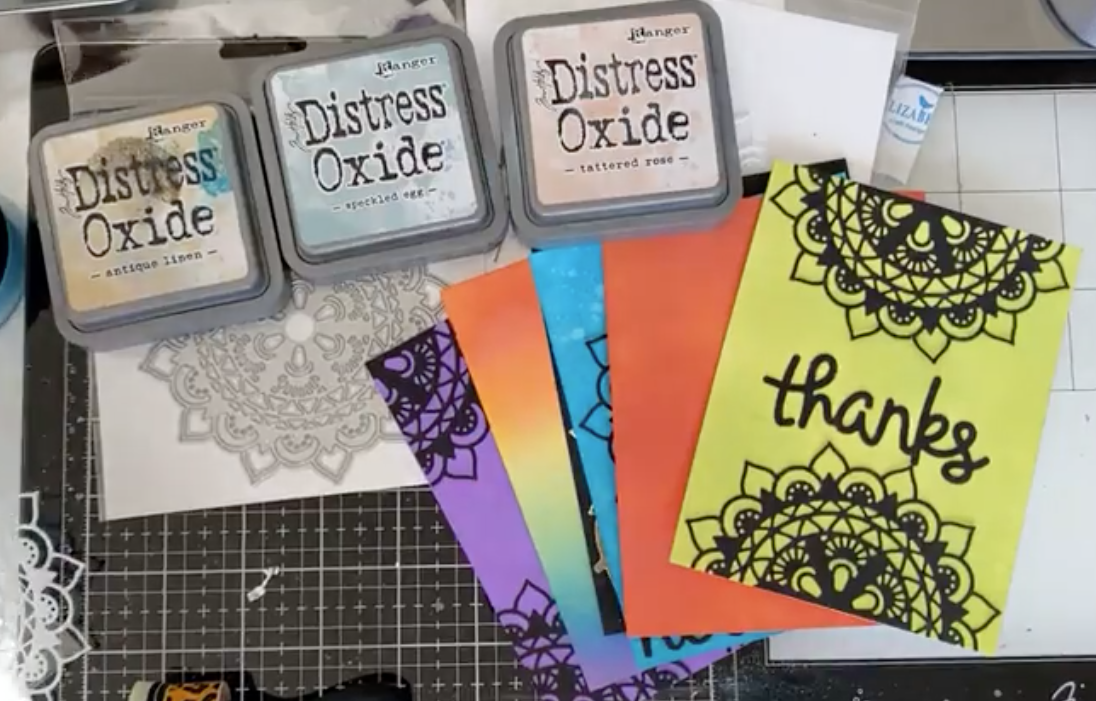 For this project, you will need a blending tool and your favorite colored inks.
In this kit, you have 3 mandalas (2 black, 1 white) and 3 card bases. We will do the white one with the small packet of gilding flakes last as that one may be the messiest. =)
Notice how intricate this die is.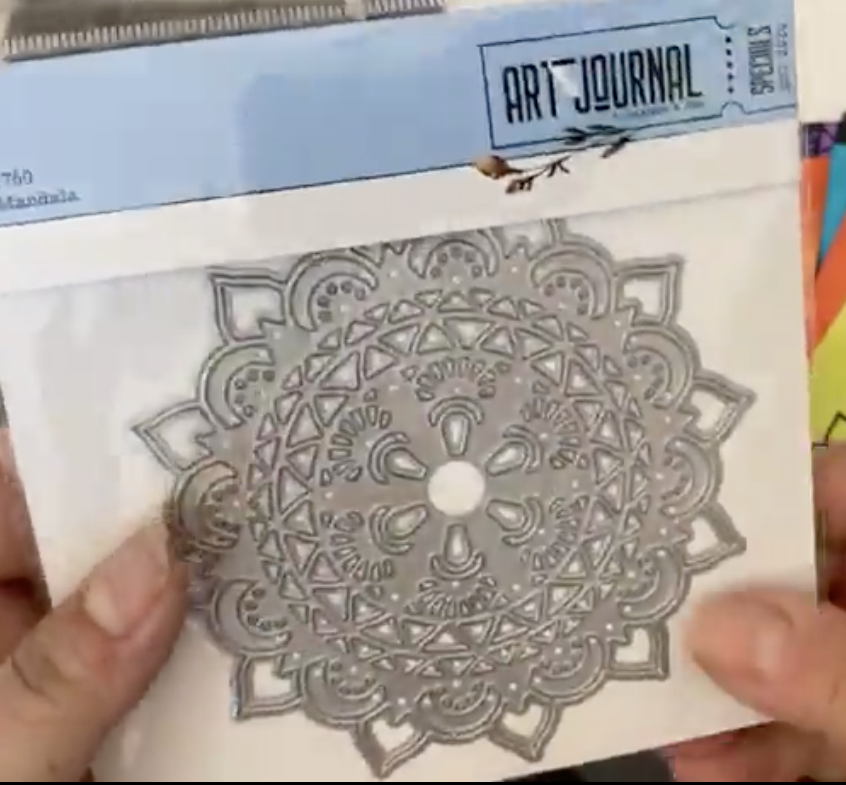 Angela used Sizzix's Chrome Precision Base Plate to cut these intricate mandalas. Please call the store if you'd like to reserve one.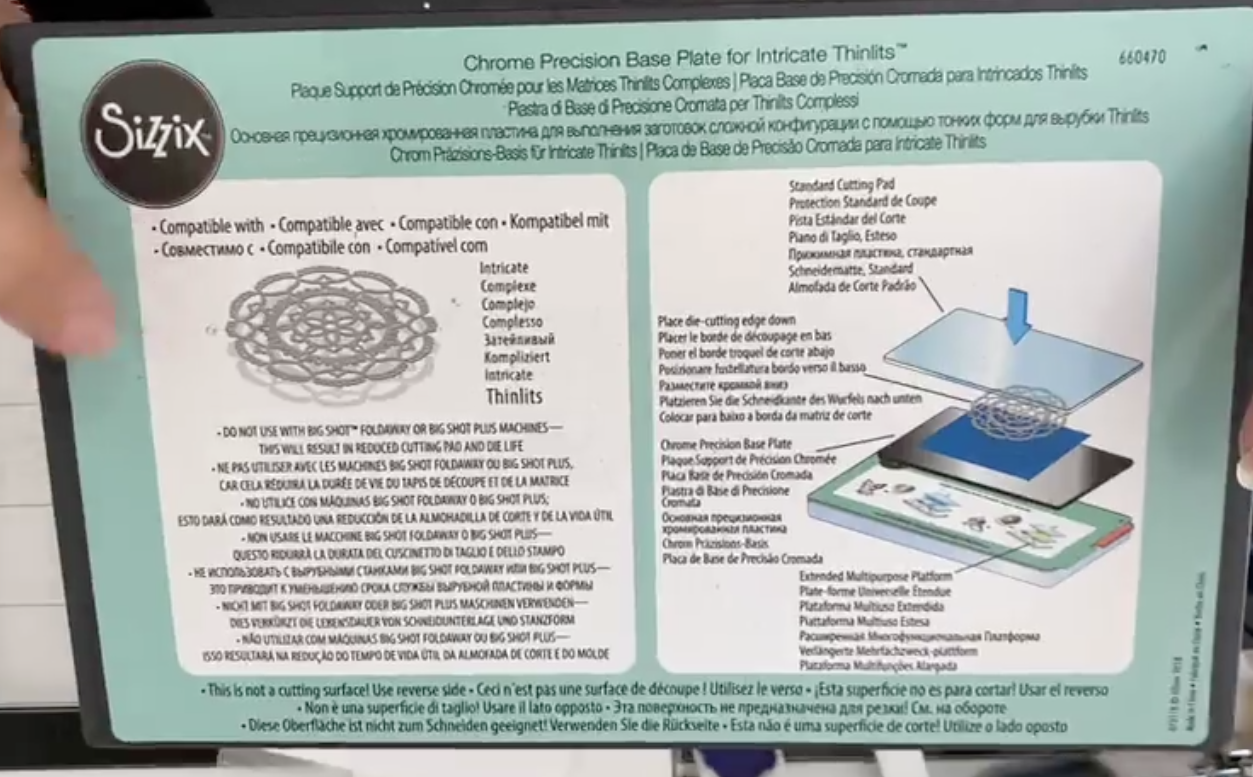 Angela used Mermaid Lagoon Distress Ink and splattered it with water, with crystal bling in the middle. The Hello sentiment is from the Pinkfresh Hello phrase builder set.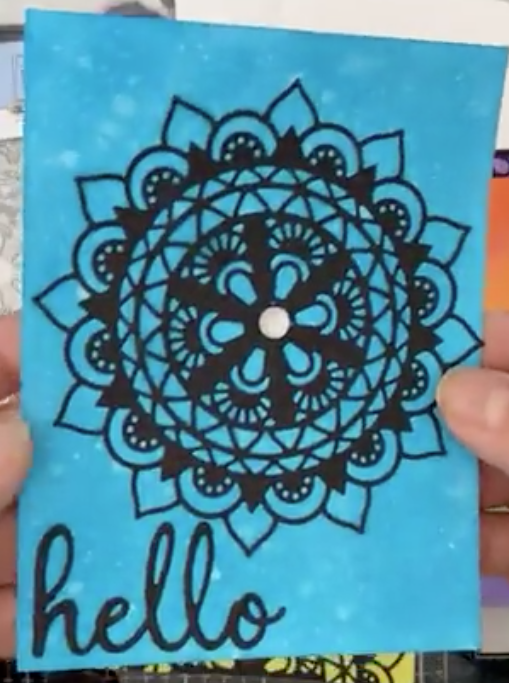 Here is a distressed background with the Mandala cut in half. The sentiment is from Lawn Fawn Stripty Thanks, a stand-alone die.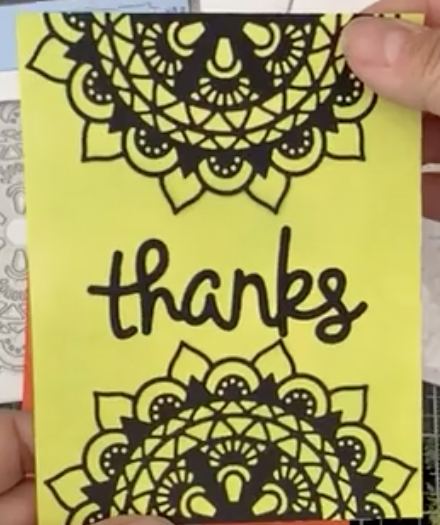 Angela went further and cut the Mandala into 4ths for a unique design. So ingenious! This die is so versatile and can be used in many ways.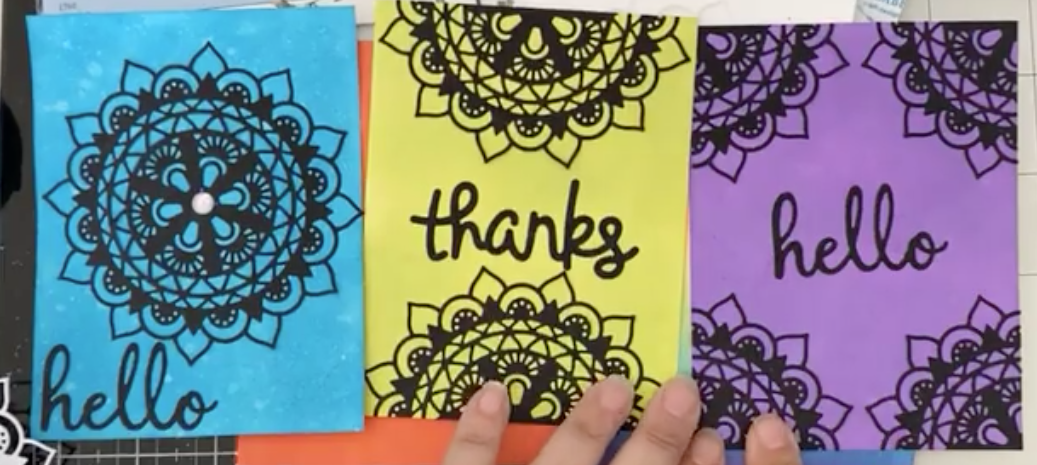 Below is a white mandala that she color blended, starting from the center and spiraling outward. Against this black background, this looks truly stunning. The sentiment is from Lawn Fawn Scripty Hugs, a stand-alone die.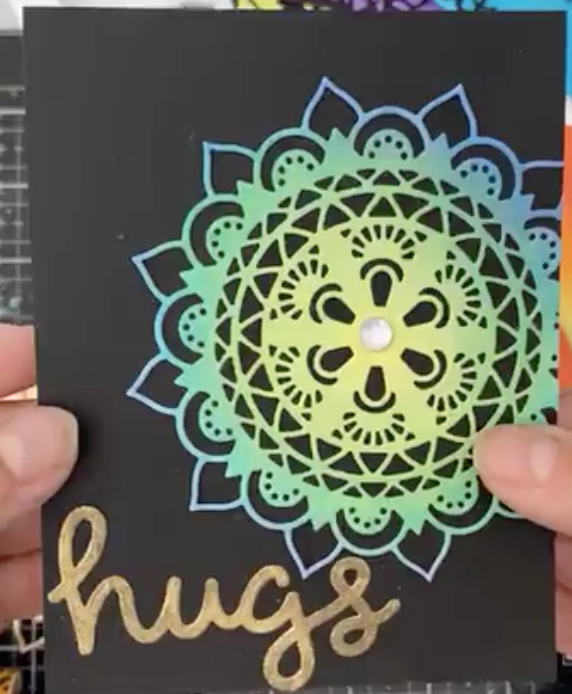 Looking at the white mandala and the black mandala side by side, you can see the focal points are different. Same die, but different effects depending on the colors.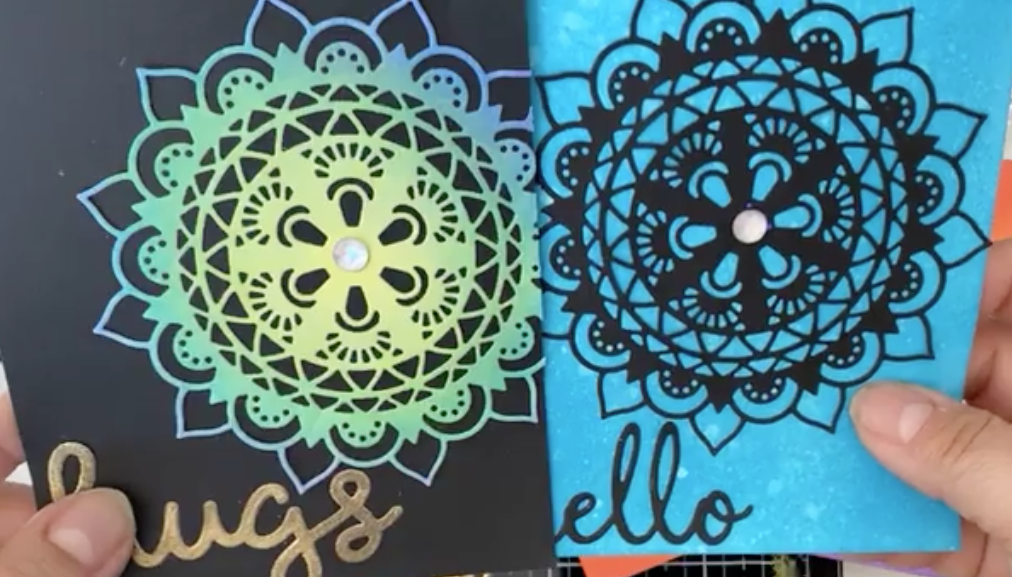 This one is with gilding flakes on a light background...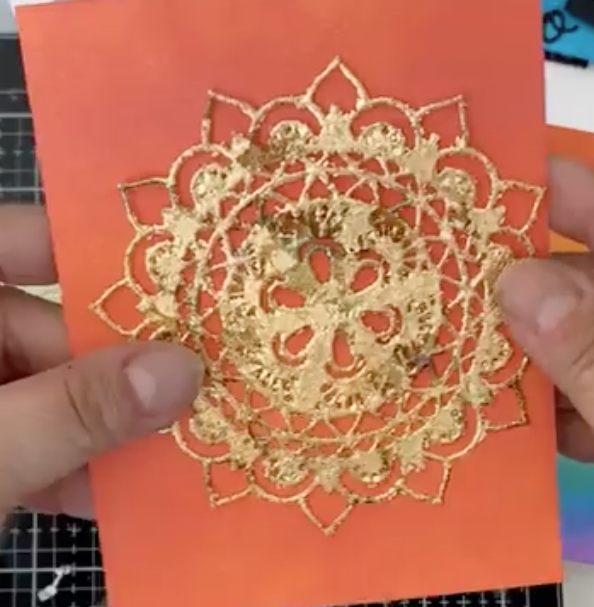 on a black background...same mandala.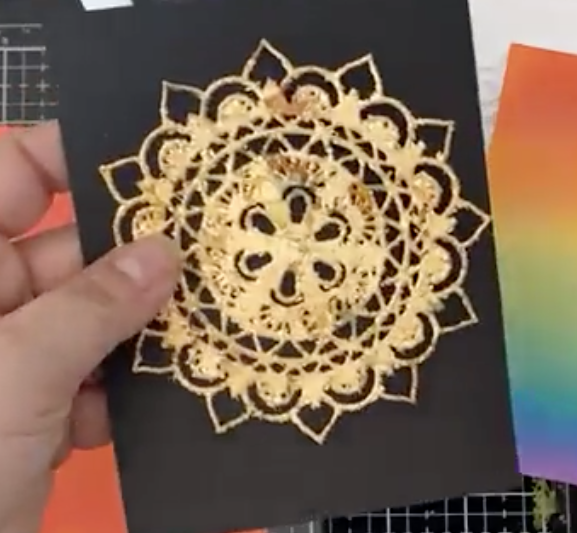 Here Angela made an ombre background using Distress Oxide inks. Wilted Violet, Mermaid Lagoon, Twisted Citron, Squeezed Lemonade, Canned Pumpkin, and Crackling Campfire. Using a variety of colors for your background will make each Mandala card unique. The combinations are infinite. This rainbow of colors Angela made is stunning.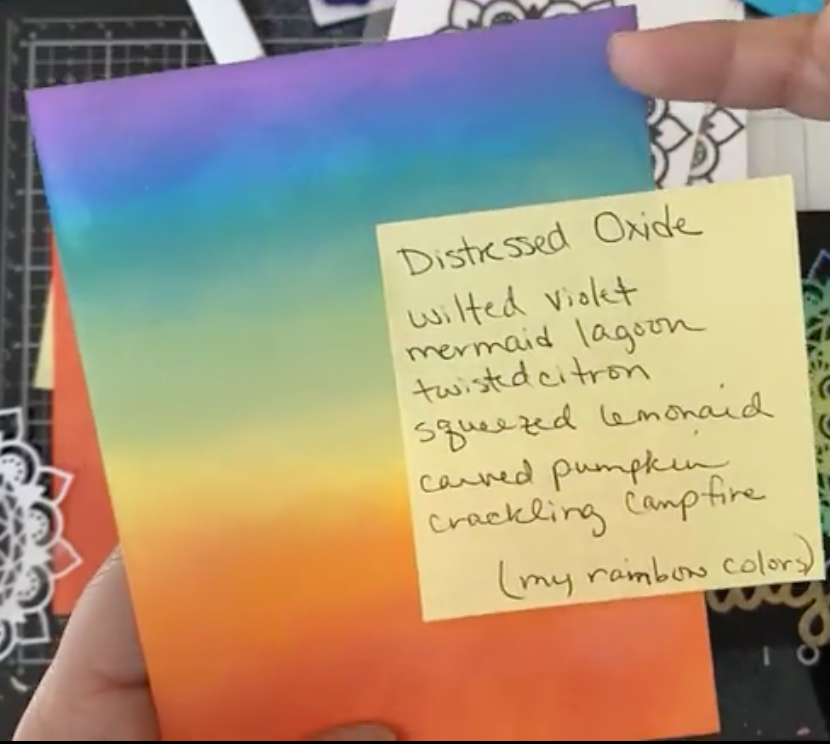 For our first card, we will make a fancy background like Angela did. Nina here is making a pastel ombre using Distress Oxide Tattered Rose, Speckled Egg, and Antique Linen.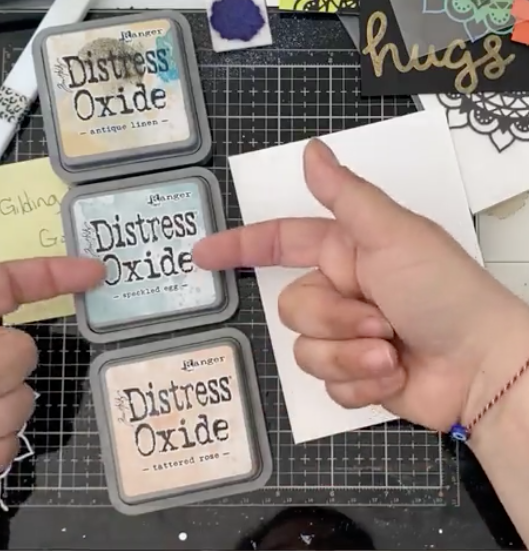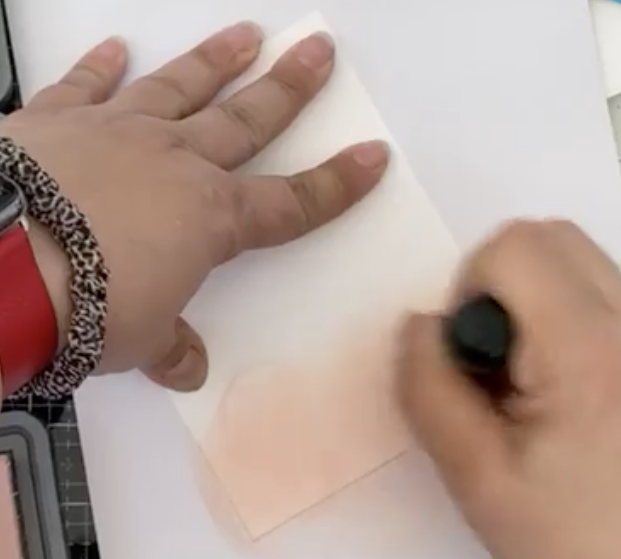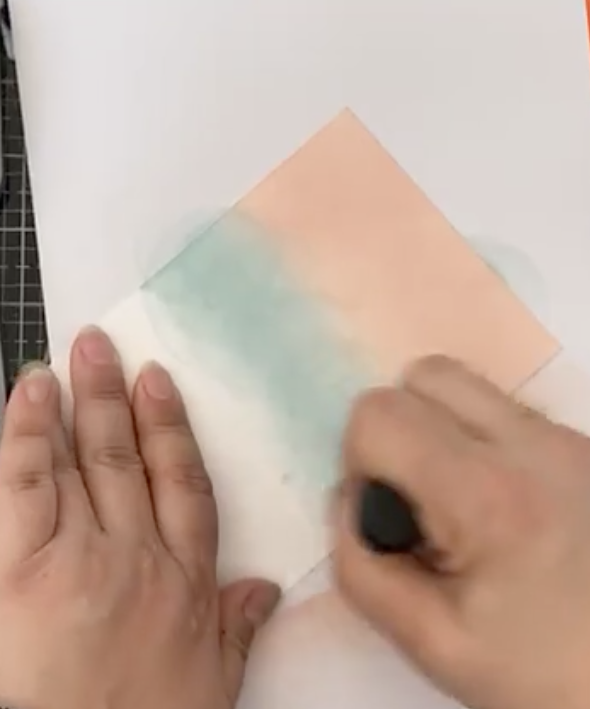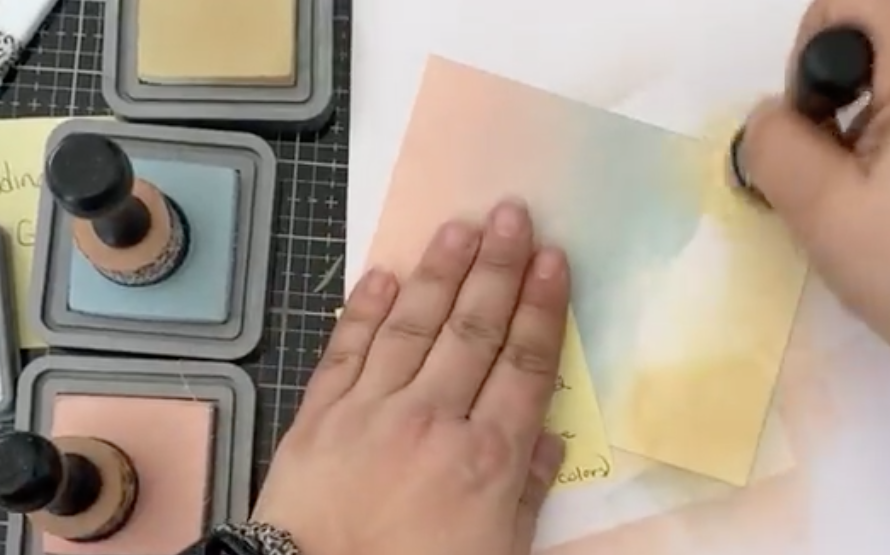 Blend the 2 colors well by going back and forth between the two colors, so that the line between them blurs. It turned out lovely!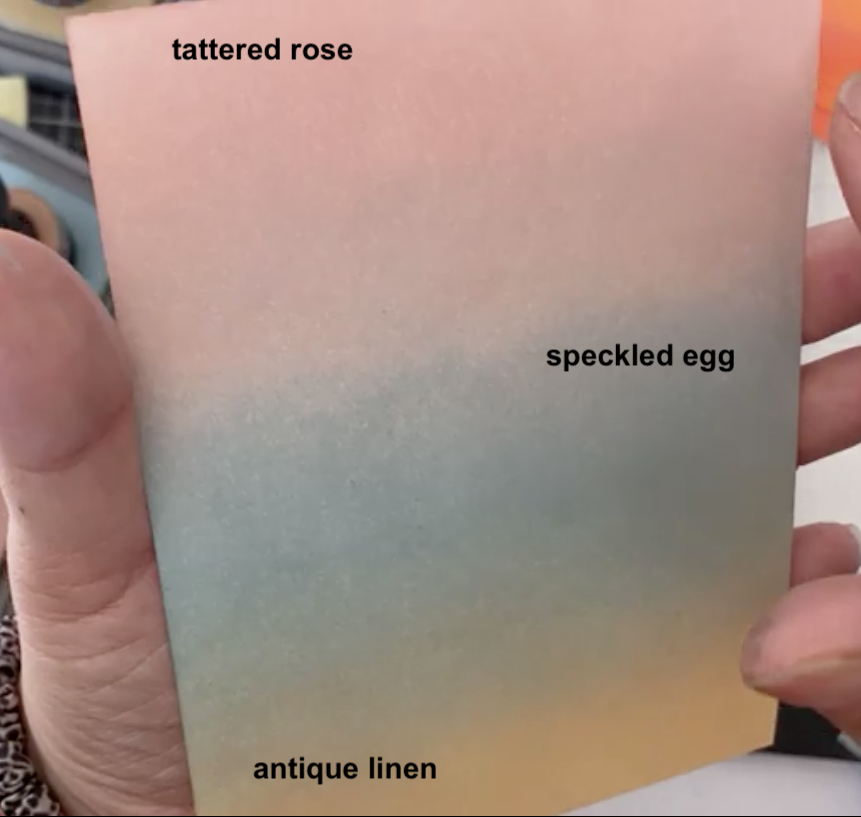 Black mandala...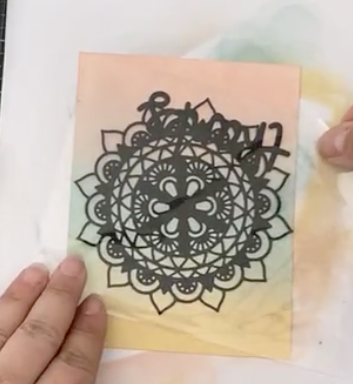 Black mandala with gilding polish...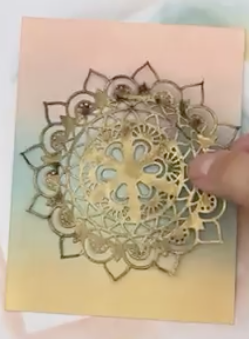 Black mandala with gold embossing powder...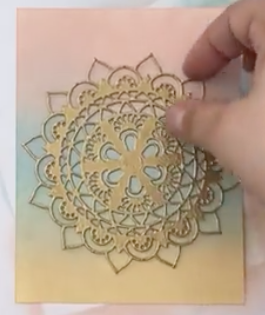 Holographic mandala, using Lawn Fawn's new holographic paper.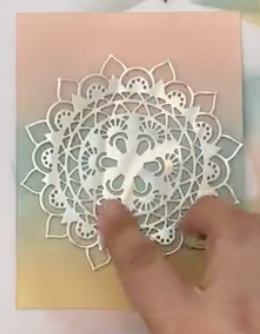 For our second card, we will experiment with using sprays and use the mandala as a "masking" element. Start off with your black mandala on a white background.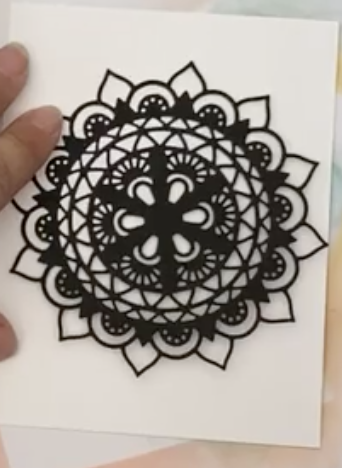 Nina is using these 3 sprays, by Dina Wakley, Carnation, Mineral, and Heather.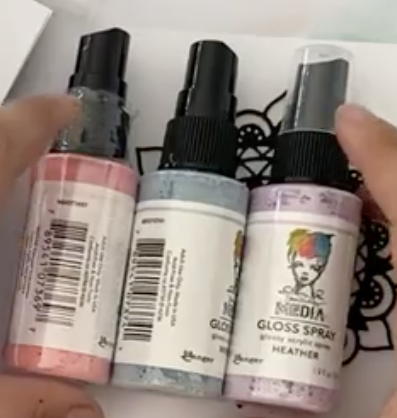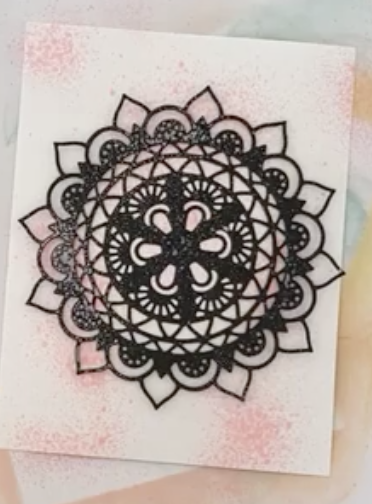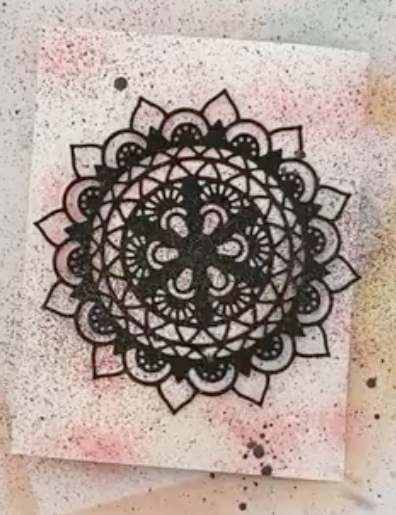 This is what it looks like when the mandala mask is lifted.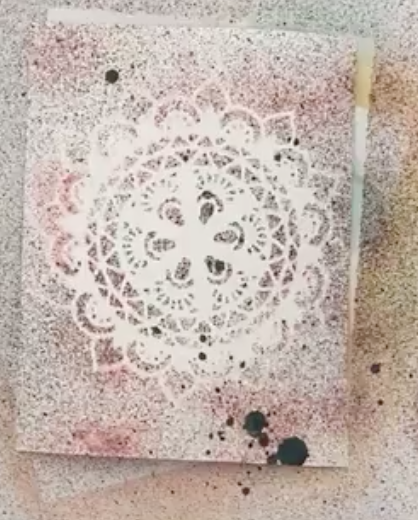 You can also color the white background without the mask and spray directly and dab the excess paint off.
Crackling Campfire...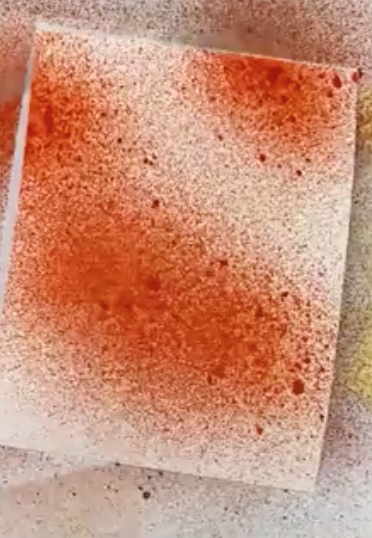 Iced Spruce...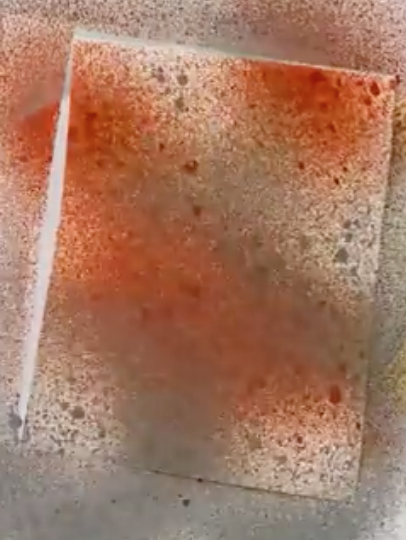 Kitsch Flamingo...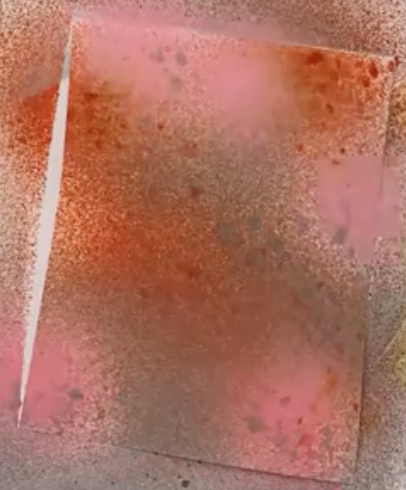 Another unique background is made. Spraying on the color is much faster than blending the colors from your ink pad. However, it takes more time to dry.
For the third card, we will be using the white mandala and the gold gilding flakes included in your kit. Angela made this mandala and adhered DieCut'N Bond onto the paper before she cut it. This Diecut'N Bond is thinner than Elizabeth Craft's Double-sided adhesive tape so is perfect for intricate dies like this one.
You need the stickiness on the mandala so the gold flakes can adhere to it. Gently peel off the backing.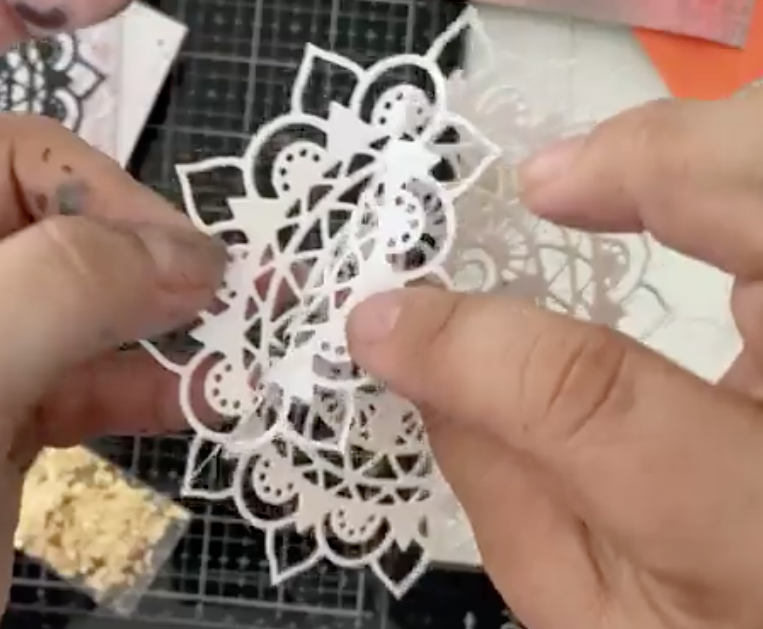 Nina shares how she has a blending tool dedicated just for gilding flakes.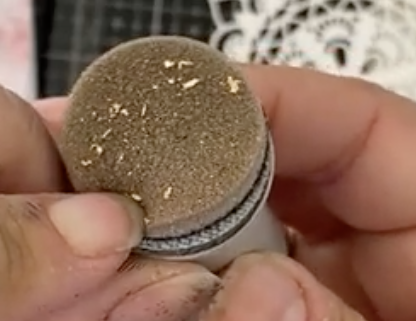 Place a small pile in the middle. A little goes a long way.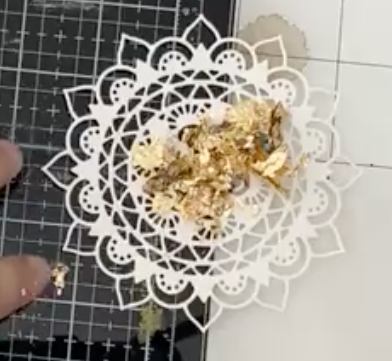 Blend away working in small circles, in a spiral all the way out.
This is what it looks like on the Distress oxide sprayed background from earlier.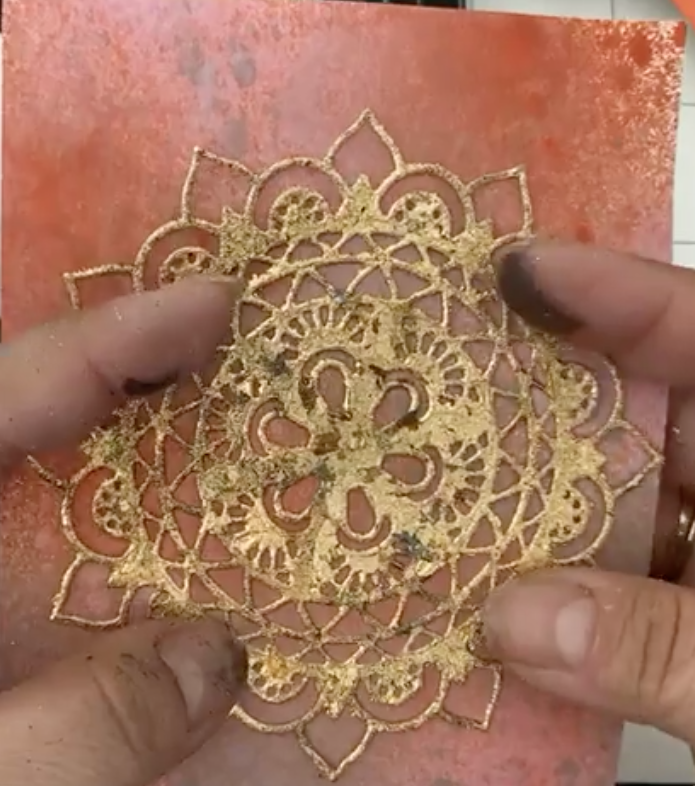 This was the previous black mandala that we sprayed on using it as a mask from above. It is now dry and the colors on the black mandala look iridescent. The background is the pastel ombre Nina made earlier.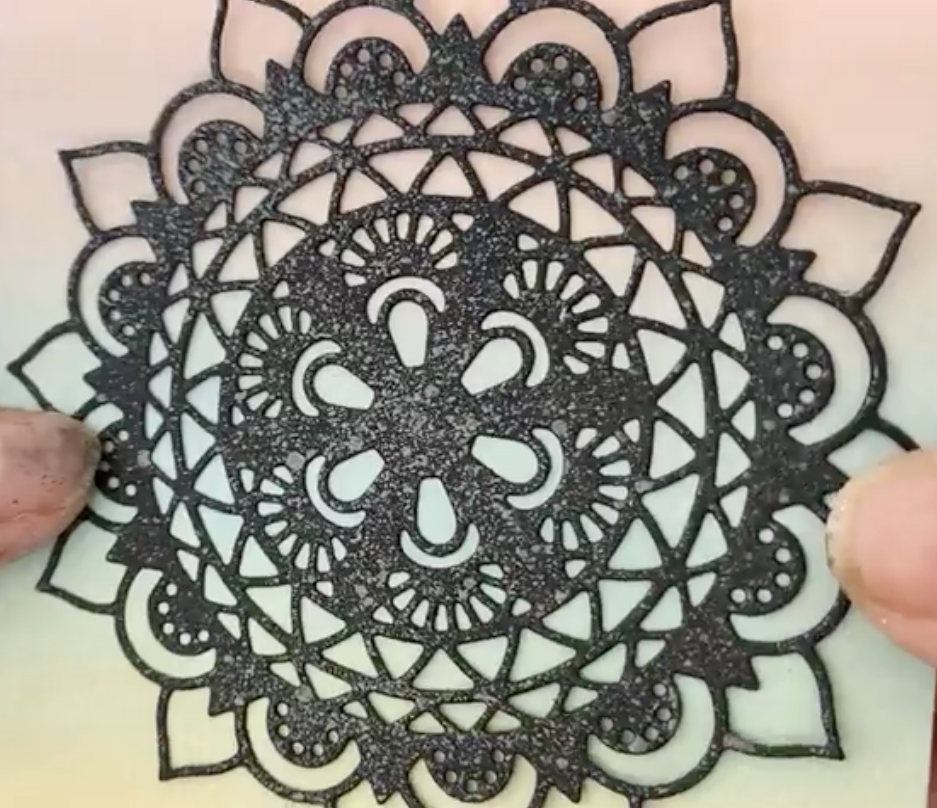 Another technique you can try with the mandala is to add foil. Using another mandala with Diecut'N Bond adhered, you can peel off the backing and attach a sheet of foil right on top. Burnish the foil onto the mandala using your finger to get into all the details of the mandala.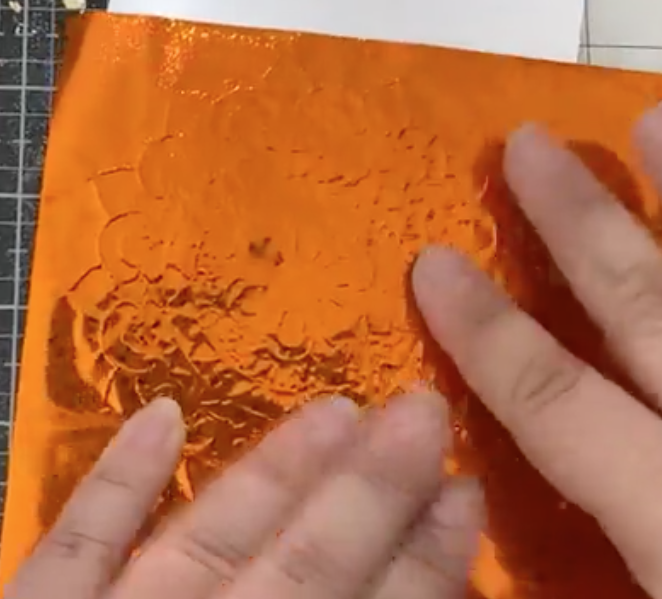 Peel away the foil backing.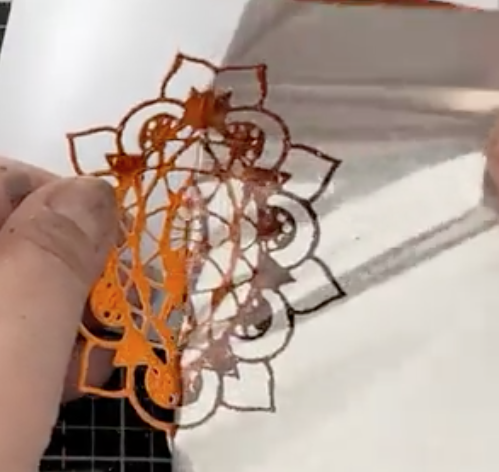 The foiling is beautiful!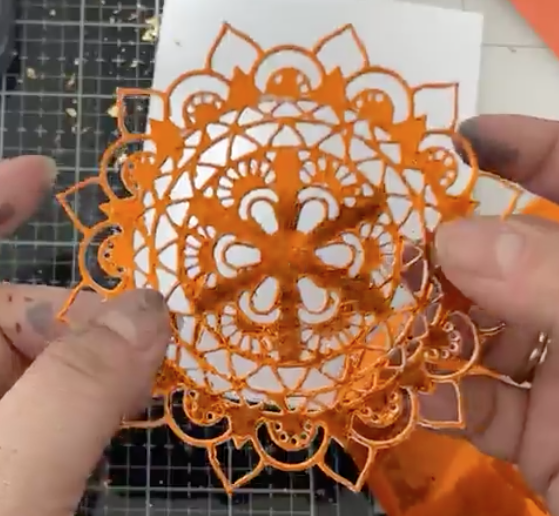 Another way to decorate the mandala is you can spray directly on a holographic one to add color.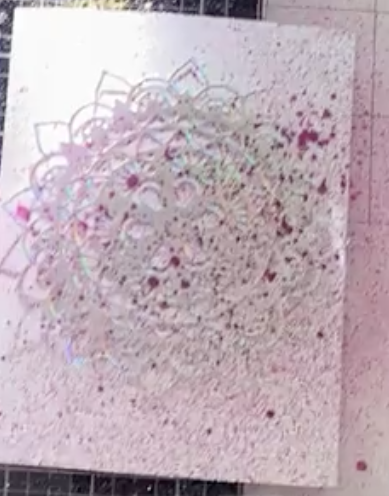 This holographic one with paint will dry and the holographic tone underneath will still show through after it is dry.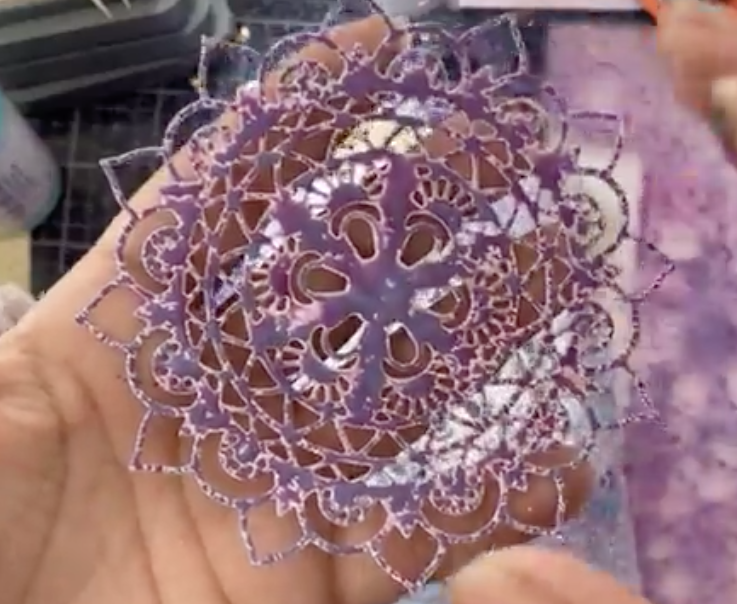 This is the masking effect it left afterward on the paper it was laying on. Beautiful isn't it?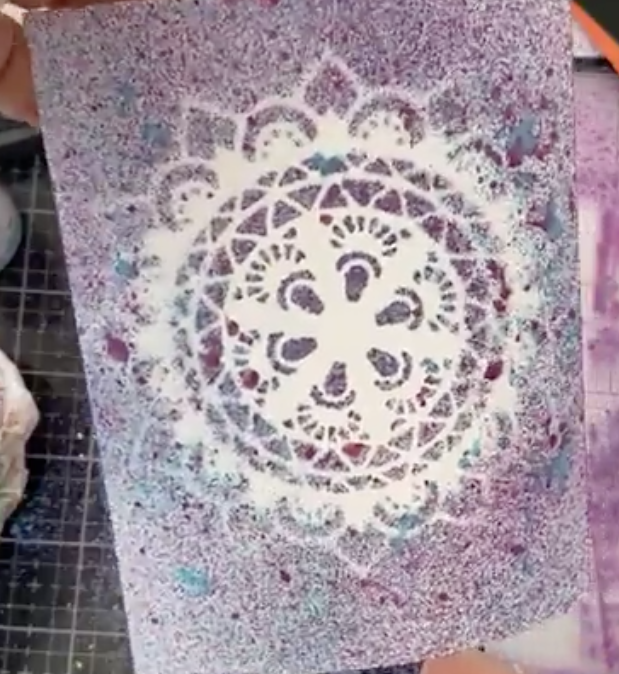 We hope you had a lot of fun playing with your mandala, and you can see how many different projects you can get from this very versatile die. 
Please see below for the corresponding videos. Please let us know if you have any questions.  We look forward to you all crafting with us again next Friday!
-Your Design Team