Let's level up our traditional plastic easter eggs with alcohol inks. Take a look at how Nina made these eggs fancy and show you how to make a simple Easter Egg Basket with one 12x12 sheet of cardstock.
Announcement: If you are part of the Seth Apter Magician's Apprentice Workshop, you should have received an email that allows you to pre-order the exclusive stamp set and stencil that he designed just for this special workshop. If you are interested in ordering, please order online or call the store. This pre-order is only for those attending the workshop. If you'd like to sign up for the workshop, please sign up here.
Part 1: For this blog post, Nina is decorating the plastic eggs we use for Easter. She shows you how you can use alcohol inks to glam them up. This was inspired by Tim Holtz. He used white eggs, and she used colored plastic eggs. When using alcohol inks, store them on their side. It is easier shaking and mixing them up this way, than when they are stored upright. 
Start with some basic supplies, blower or fan or straw, plastic egg, felt applicator to use on a mini blending tool.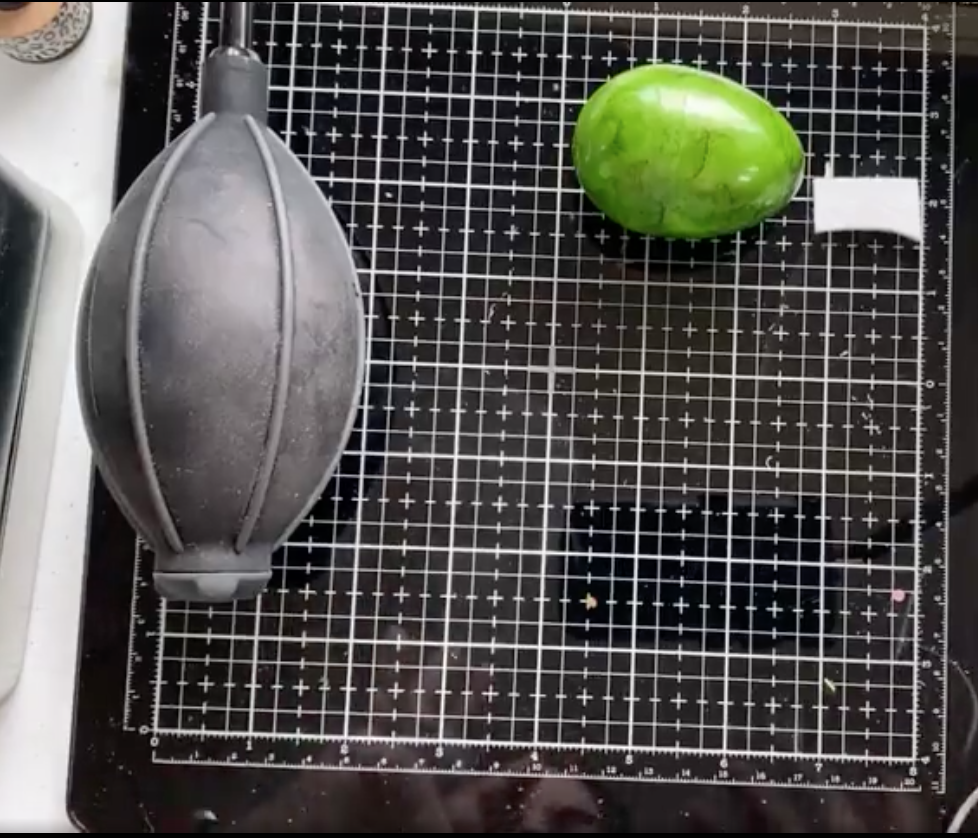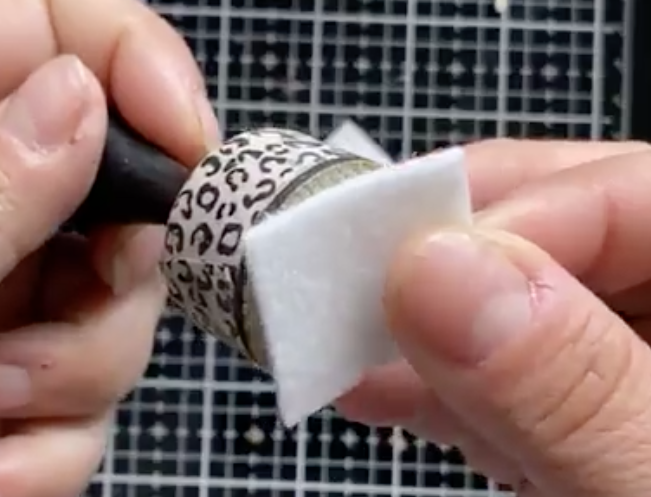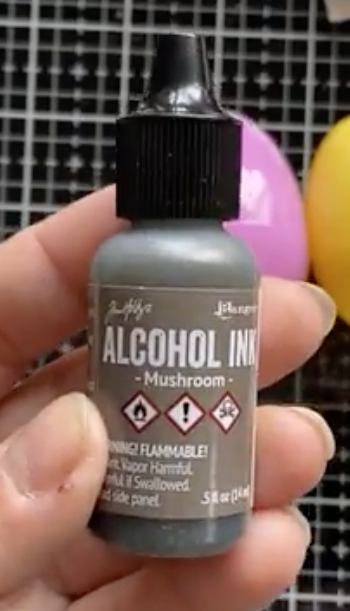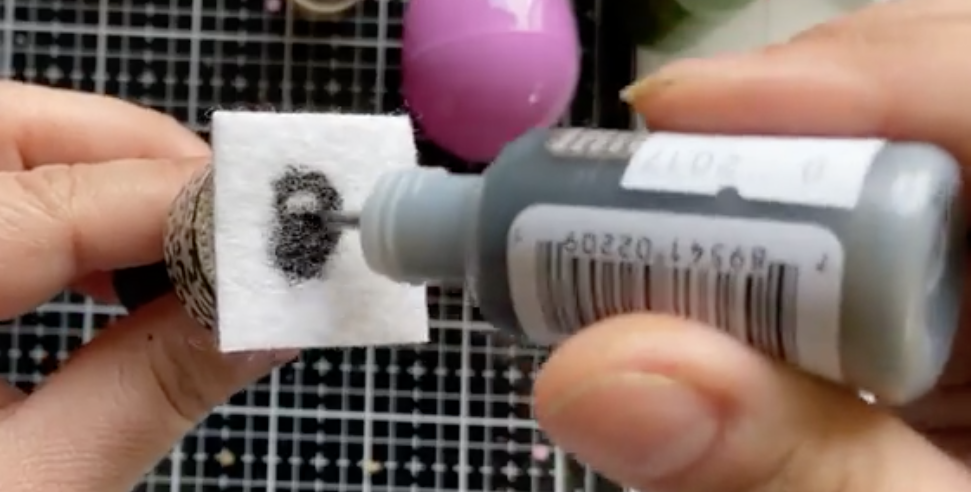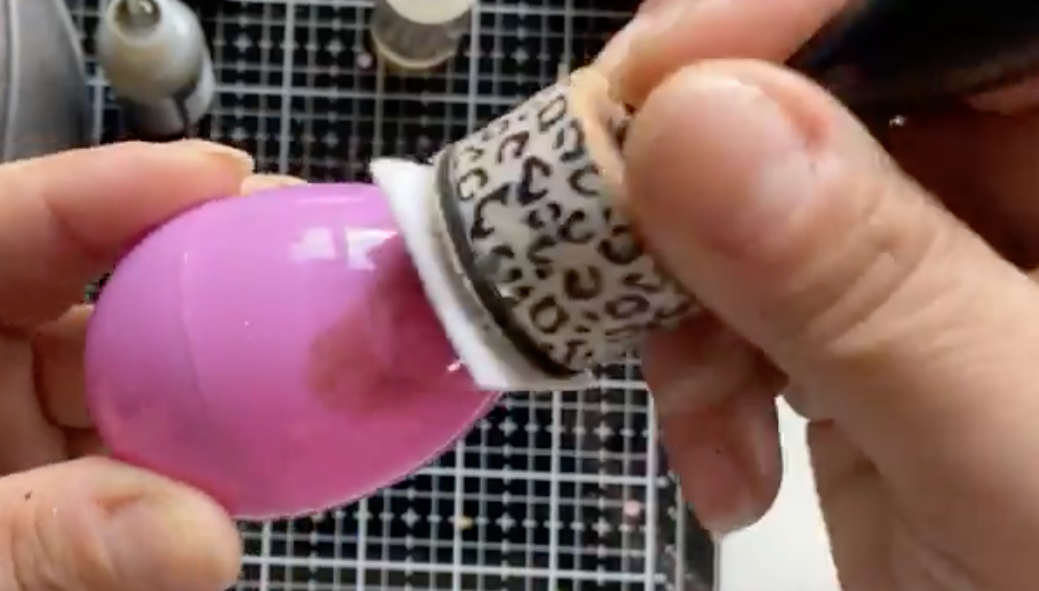 Let the ink dry with a blower to push the edges of the ink to allow for a marbling effect.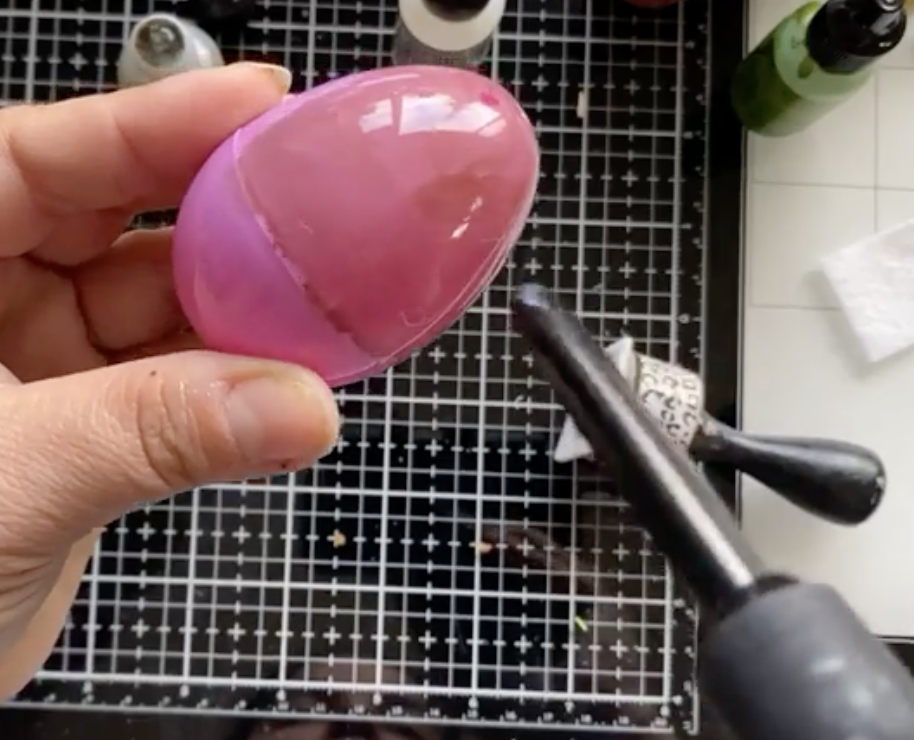 Then Nina added a second color, Villainous Pearl. This accentuated the purple on top of the Mushroom color. Look at how the blower pushed the edge of the ink and made a "veiny" line.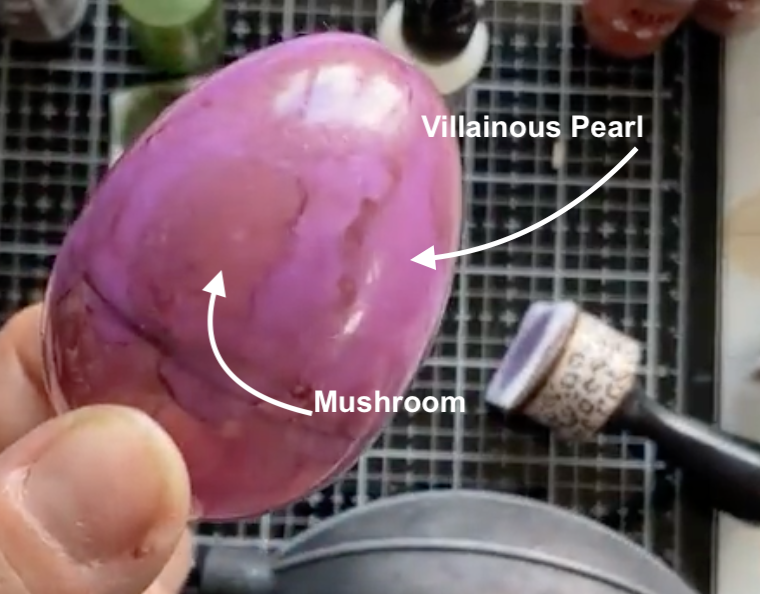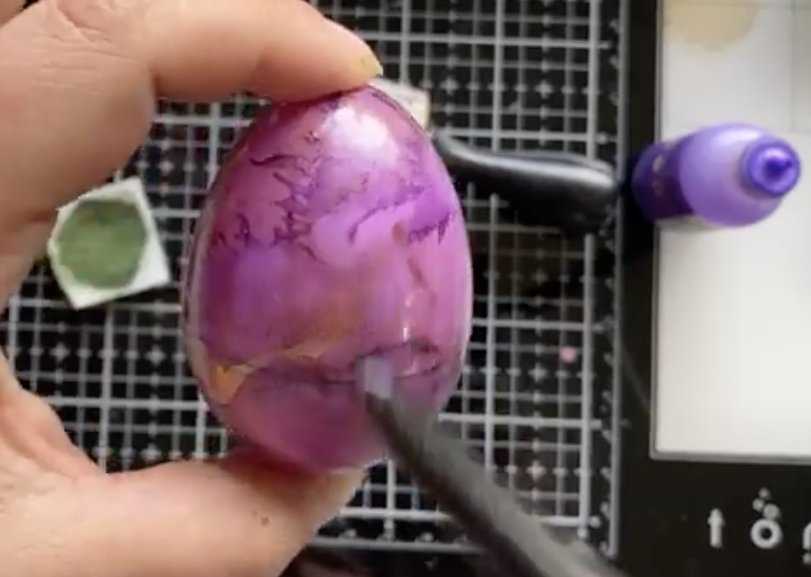 Then she added some Gilded Alloy.
Before and After: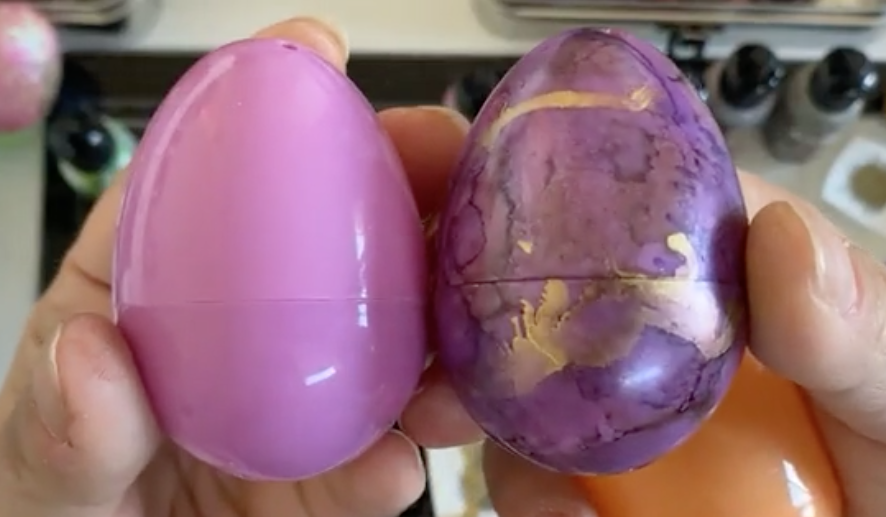 Going back to the Green egg (that she had previously done prior to Facebook Live), Nina added some Gilded Alloy Alcohol ink to add more veins and streaks to the egg.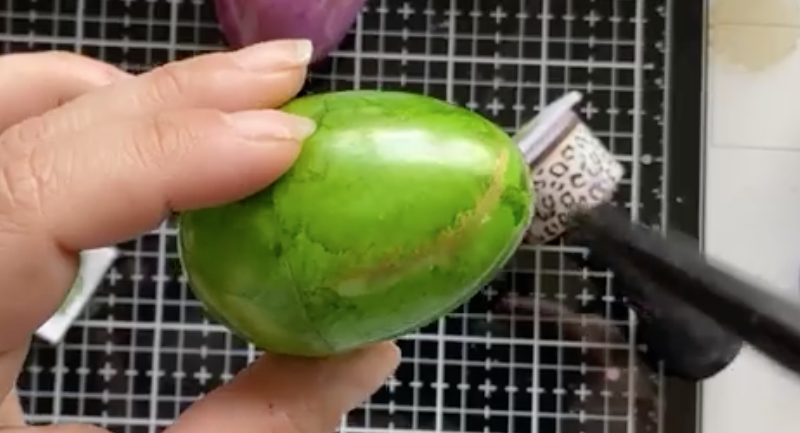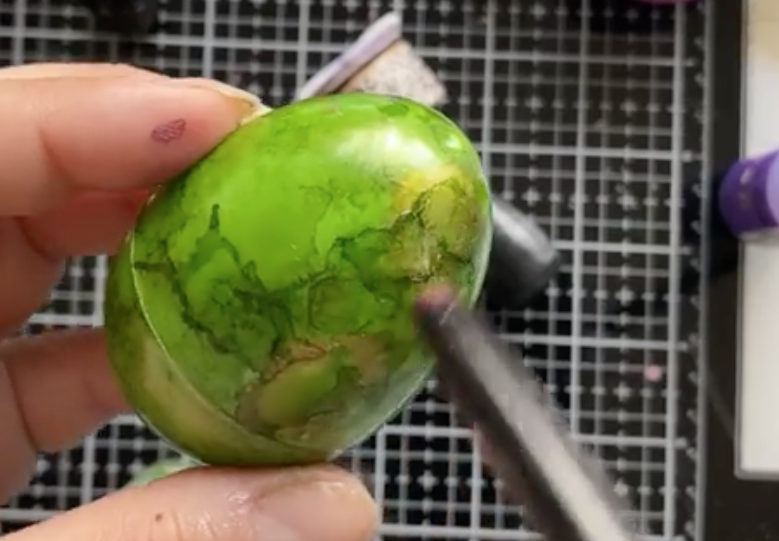 Before and After: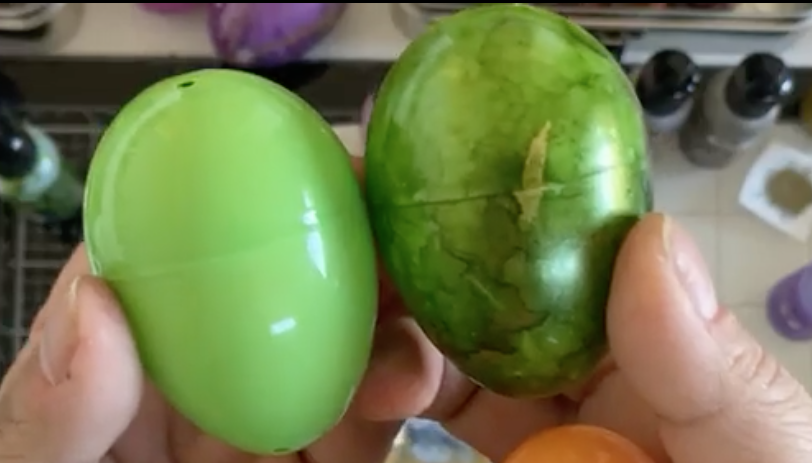 Each egg comes out unique, and you just need to play around with layering different colors to get the effect you want. There is no wrong way of doing this.
She demonstrates again how to add layers of different colors and types of alcohol inks, such as Mixative, Pearl, and Alloys.
Here Nina used a blue egg with White Alcohol Ink and layered the Yellow on top, and then Silver Alloy.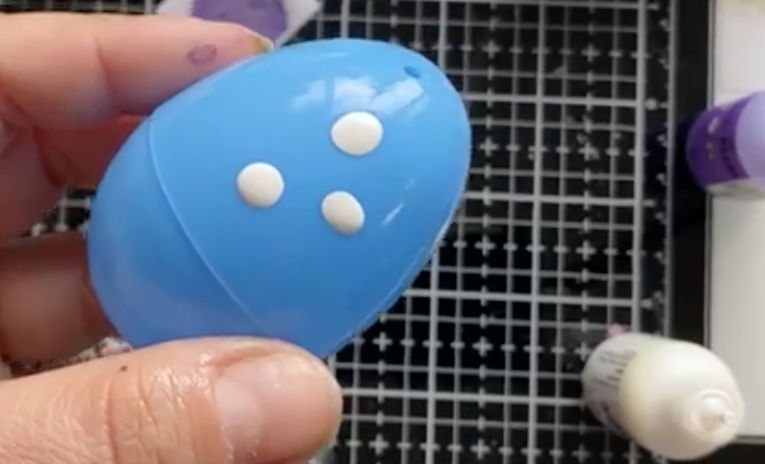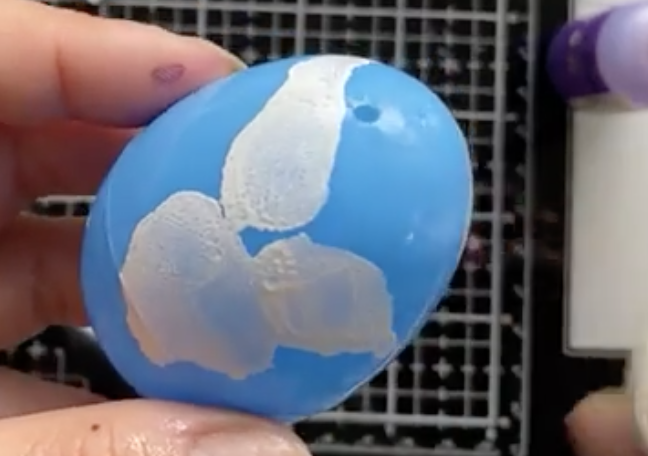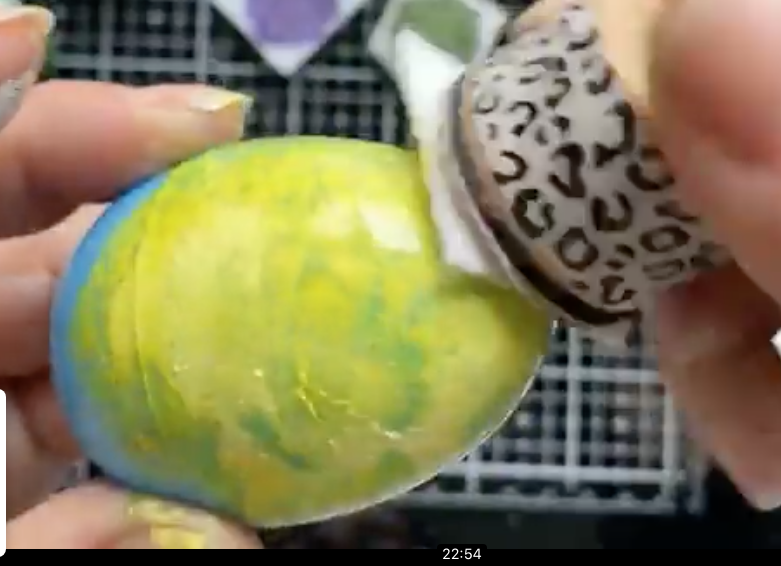 Nina added a Metallic Blue to the Silver Pearl and you can see it react here.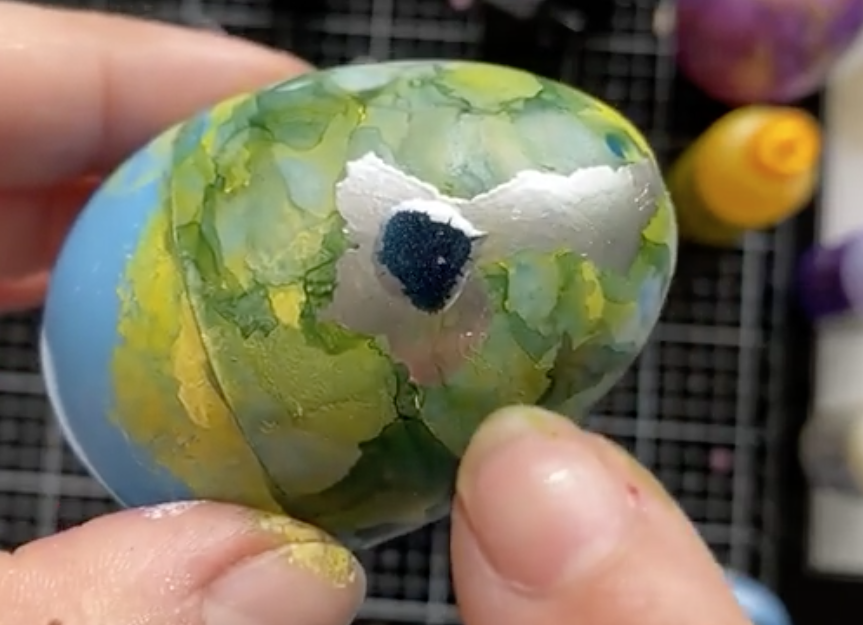 These are some examples of how alcohol inks look on Yupo Paper (which is basically plastic non-porous paper).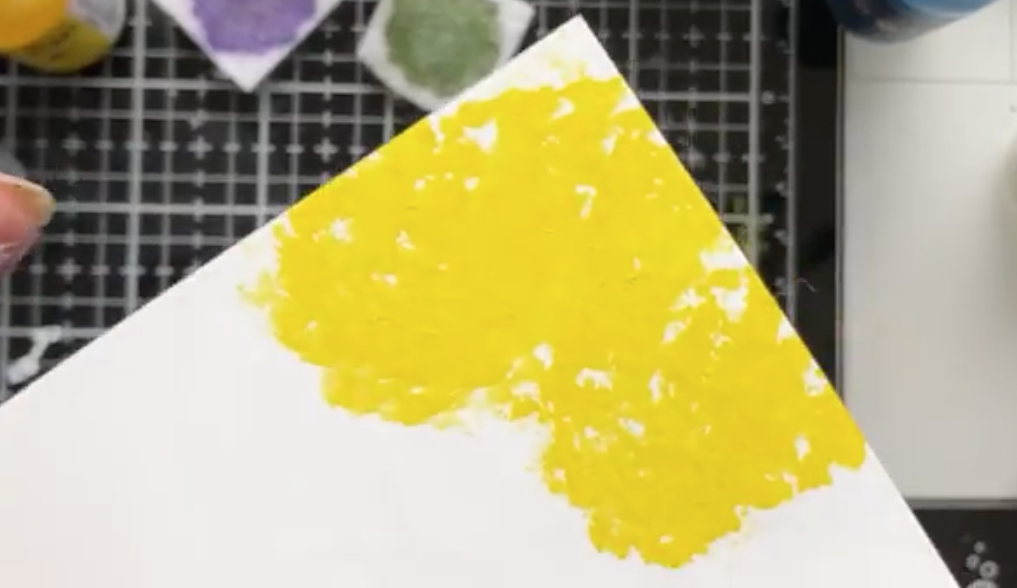 Blow the alcohol ink to see the full effect of what alcohol inks can do.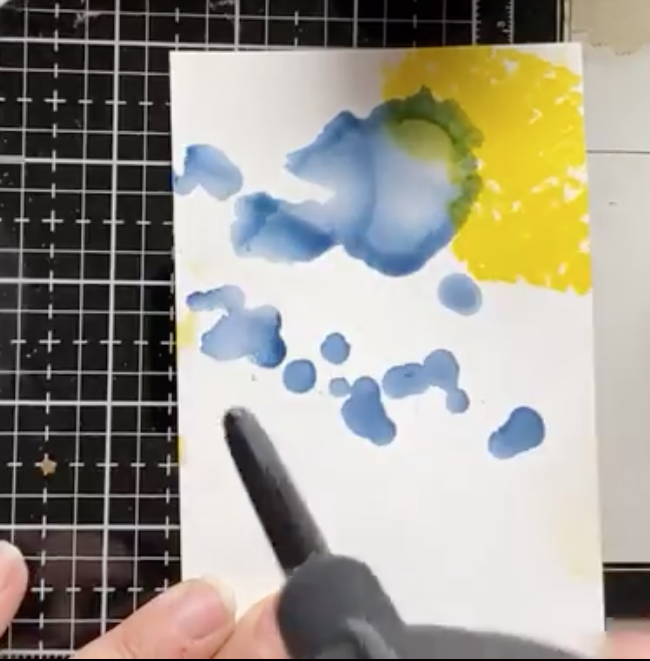 Using Mixative Silver and Alloy Gilded.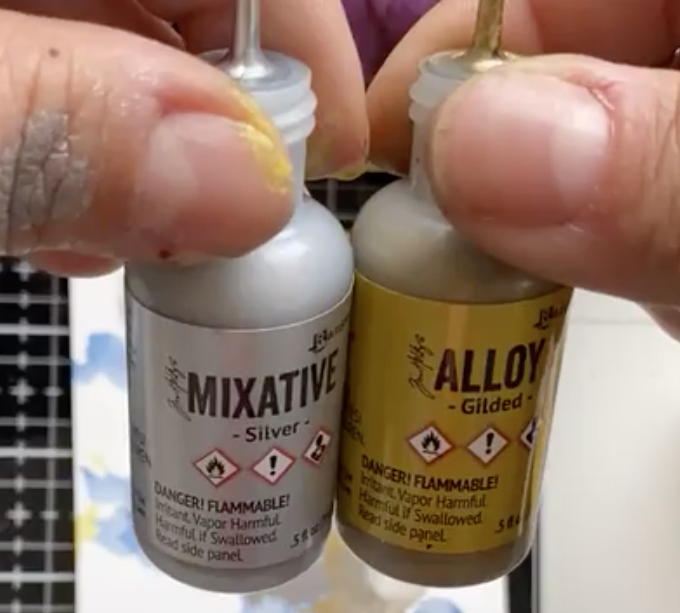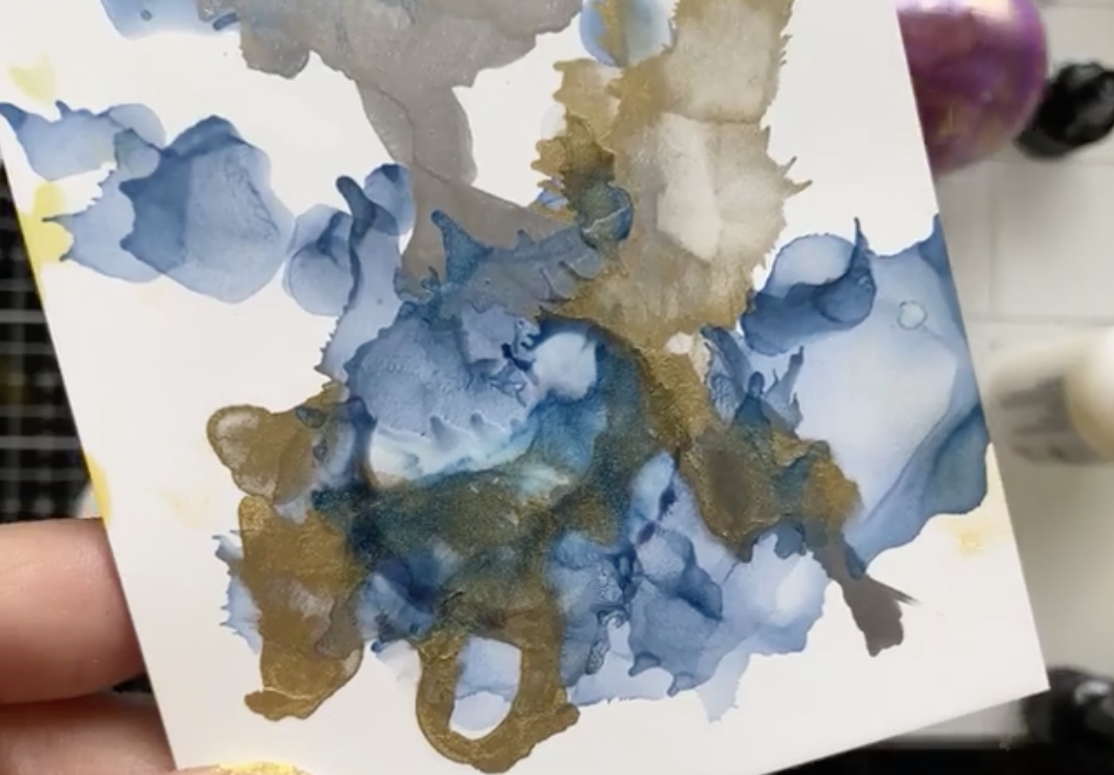 Final Blue Egg before and after: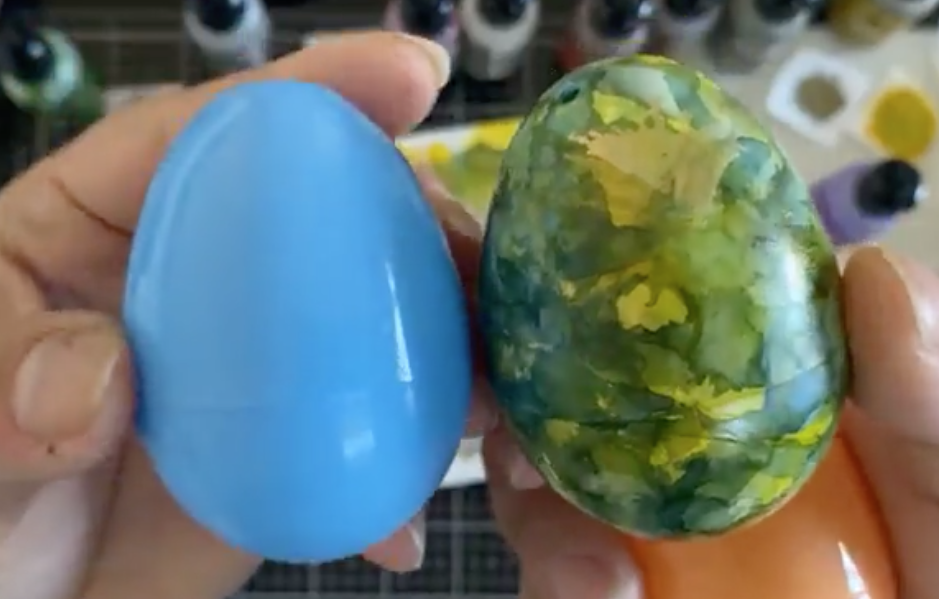 Part 2. Using Gilding Flakes and making a Mini Easter Basket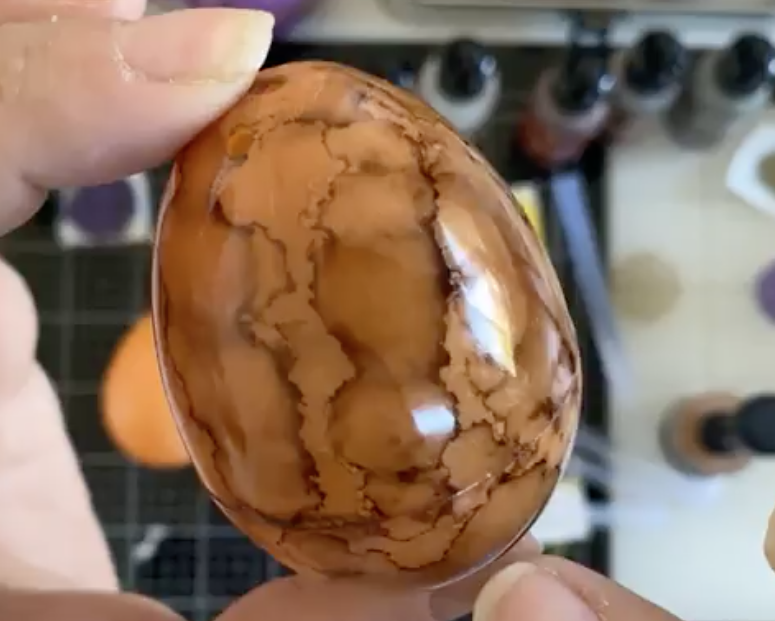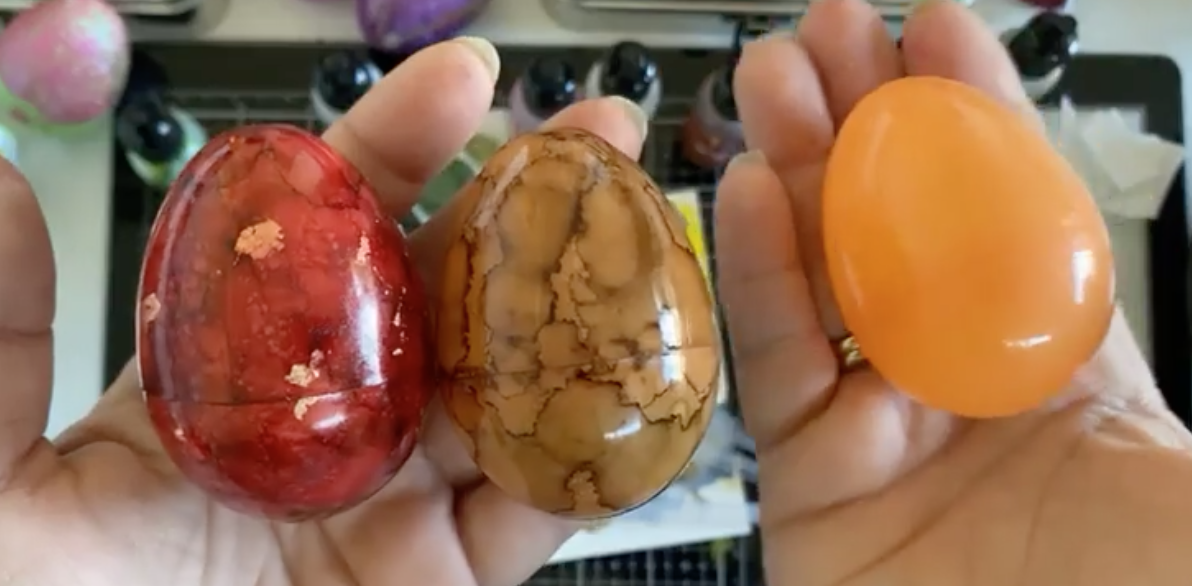 These eggs started out like the Orange on the right. Nina shows us how to add more colors and gilding flakes to the egg.
Using the middle egg, that already had Mushroom applied, she added Amethyst.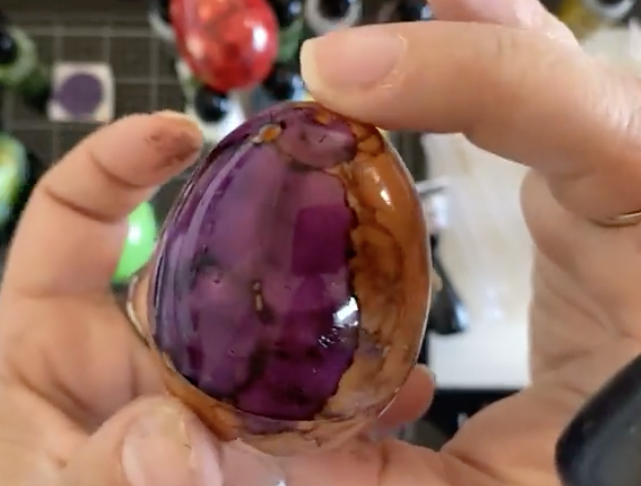 Then she added Butterscotch to lighten it up a bit.
Then while the ink is still mildly wet, carefully add your Gilding Flakes and push and dab them down with the felted blending tool.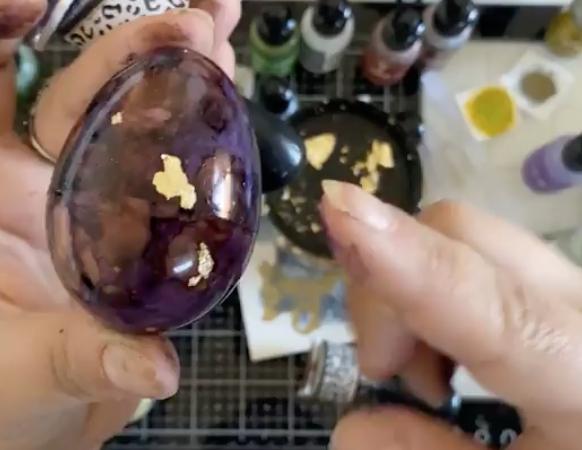 It really is that easy. Once it dries, it will not come off.
Let's make the Easter Basket now.
One 12x12 cardstock cut to ---->11 1/4" x 4" (basket) and 12" x 1/2" (basket handle)
Score the basket as demonstrated in this illustration and cut away the last bottom right rectangle. Score one horizontal at 2", and all the vertical score lines at 1 1/4" apart. Then cut along the bottom half of the score lines only until the horizontal 2" score line. These flaps form the bottom of the basket.
Apply glue to the rectangular flap to form a cylinder, and you can see the flaps are made by cutting along the score lines, only to the 2" horizontal line.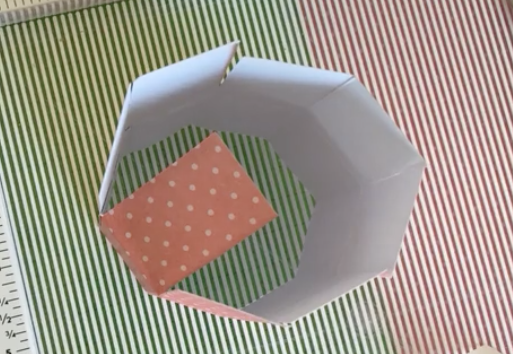 Next, we fold the bottom flaps and use liquid glue to form the bottom. Liquid glue works best here, so you can shape and adjust as you glue each flap onto each other to form the bottom of the basket.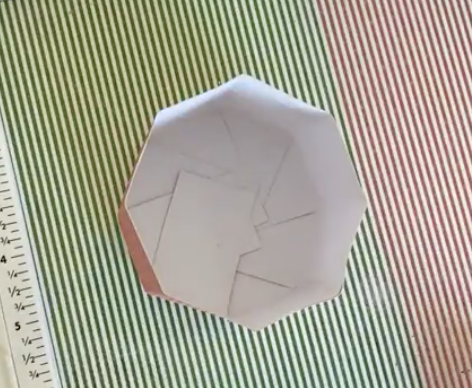 Add the Basket handle with the remaining 12"x 1/2" strip with glue dots or brad or anything you'd like and you've got a simple and easy Easter Basket that can hold the beautiful eggs you just made!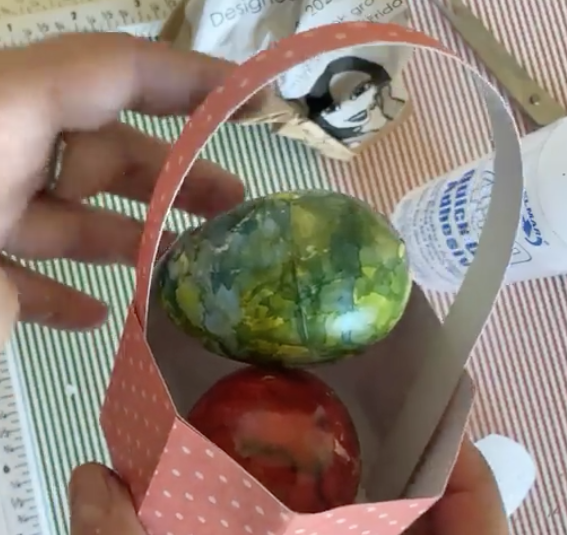 Thanks for reading and watching us on Facebook every day.
See below for the Facebook Lives that correspond to this blog post.
And thank you for being a part of this community.
-Your Design Team Member, Sheila C.